Odds are, if you're reading this, you already know just how important helmets are to biking safety. Plus, your brain will thank you for taking the time! You've probably asked yourself 'What size bike helmet do I need?' or 'How is a helmet supposed to fit?' These types of questions likely brought you here, where we're going to explain all of that and then some.
Shopping for a helmet is similar to shopping for an electric bike; you should be mixing fun with safety! You no longer need to wear a bland piece of plastic on your head that half covers your vision to ride a bike. Although, if your helmet is interfering with your vision, then it's probably the wrong fit and we'll explain why in a bit! Nowadays, companies are reinventing what protective wear means, including helmets. So while safety is the number one thing to keep in mind when choosing a bike helmet, you also have a lot more design choices to let your personality shine! Without further ado, let's dive into the specifics of how to choose a bike helmet.
Bike Helmet Anatomy
As a society, we place an enormous amount of importance on wearing helmets. You know, since it literally protects your irreplaceable head. So, it's important to get some insight into how they're created and the materials used. Traditional bike helmets are broken down into three parts: the shell casing, the liner, and the strap.
The shell, or the 'hard' exterior part of the helmet, can be made of any number of impact-resisting materials, including plastic, polycarbonate, and carbon fiber. This component is what protects your head from external forces or impact.
The liner, or the softer inner parts of the shell where your head rests, is typically made of either Expanded Polystyrene (EPS) foam or any other thoroughly-tested foam. It is a barrier between the shell and your head, acting as a buffer layer to absorb the shocks of impact. Together, the shell and liner work together to reduce the force on impact.
Keeping both elements together on your head are straps located near the right and left sides, which clamp underneath our chin. A strong and durable strap will not only keep your helmet on your head but ensure that your whole head is covered, if properly fitted.
Pre-Purchase Things To Know
Before buying a helmet, you'll need to determine what type of bike riding you'll be doing. We'll talk more about the types of bike helmets in just a minute, but here are some important points you'll want to consider:
Material. Reference our brief overview above or do your own investigation. Make sure the materials that make up the helmet you're interested in are heavy-duty and of good quality. You're investing in your brain, here!
Weight. The shells' materials need to be sturdy, but not overwhelmingly heavy to the point that it is causing physical pain.
Certification. A proper helmet should comply with and be certified for CPSC Safety Standard. Most helmets meet this but it doesn't hurt to check. There are also other forms of technology to look out for, like MIPS. MIPS stands for Multi-directional Impact Protection System, is a type of slip-plane technology that can reduce the amount of force against the head during impact. If a helmet is equipped with MIPS, it'll have a thin yellow liner under the pads inside the helmet
Fit. Expect the helmet to feel snug, but it should not be too loose or too tight.
Price. All we ask is that you do not compromise on the cost as a helmet protects your head, and that, is priceless.
Types of Helmets
Before we can get into bicycle helmet sizing, we need to cover the types of bike helmets. And no, not all bike helmets are created the same! Some inexpensive helmets have incredibly simple shells, using various forms of plastic that are actually similar to the plastic used to create water bottles. It likely goes without saying that this is a helmet you probably don't want to buy.
There are a variety of helmet styles formulated to meet the various needs of riders, from adventurous off-roaders to urban commuters. Here's an overview:
Commuter/Recreational Helmets – These can come in various styles, but generally they offer a standard amount of vents with great coverage. These are perfect for urbanite commuters or after-hours electric bike fanatics looking to squeeze in a joy ride.
Cross Country Helmets – Also known as road bike helmets, these typically are lightweight with a substantial amount of vents. Designed for biking enthusiasts in need of an aerodynamic design and increased ventilation to keep cool on their long rides and uphill climbs.
All Mountain or Trail Helmet – Though most electric bikes are not 'mountain bikes' per se and will need to comply with local regulations for most trails, these helmets are designed with greater coverage in mind, especially towards the back of the head for unforeseen falls backward. If you're someone to likes to take their ebike on trailheads or off-roading with their fat tire electric bike, this might be a good choice for you!
Sizing
First thing's first, bike helmet measurements are necessary to determine your right size. Most manufacturers will provide a bike helmet size chart either in-store or directly on the product website, so definitely use it as a reference. Helmets are not all created equally. The size you wear for one helmet may not apply across the board for all. Always reference the bike helmet size chart for your most accurate fit.
Measuring Your Head
To get the circumference of your head, take a flexible measuring tape and wrap it horizontally around the temples of your head: about an inch above your eyebrows and ears. Measure in centimeters as most bike helmet size charts are presented in this. If you don't have a flexible tape measure, take a piece of string (or a shoelace!), wrap it around your head, then measure the string. Once complete, look for a helmet size that matches your measurement!
Approximate Size Chart
Although helmet sizing typically isn't the same across the board, below is an example of the information you'll find on a bike helmet size chart, with approximate measurements:
Extra Small: below 20 ½ in (53cm)
Small: 20 ½ in – 21 ¼ in (53cm – 54cm)
Medium: 21 ¼ in – 22 ¾ in (54cm – 57cm)
Large: 22 ¾ in – 24 ⅛ in (57cm – 61cm)
Extra Large: above 24 ⅛ in (61cm)
Note: While you may discover your size within the above parameters, it is not a definitive size chart and it's encouraged to review the helmet manufacturer's respective size chart.
Fit
Now that we've answered 'What size bike helmet do I need?' it's time to look into 'How should a bike helmet fit?' Like we briefly mentioned earlier, your helmet should feel snug: not too loose or too tight. For online shoppers, this might mean relying more heavily on the manufacturer's size chart provided. For in-person shoppers, this means to try, try, try before you buy! Explaining how to properly secure and adjust your helmet should answer your burning question.
First and foremost, place the helmet atop your head, making sure it is level. You actually want it to cover the majority of your forehead, so it should sit about an inch above your eyebrows. If you have an adjustment wheel, which is located towards the back of your helmet, use it to additionally alter the fit. Twisting the wheel allows you to better personalize the fit of a helmet, ensuring it is snug. Doing so will prevent your helmet from excessively slipping forward, blocking your vision, or sitting too high atop your forehead, giving less coverage.
Next, adjust and buckle the chin straps so that they fit snug yet comfortably. When fitted properly, the straps will form a "Y" as they rest under each ear.
Lastly, with the shell fitted snugly and straps buckled securely, do a quick test: open your mouth wide. There should be about a half-inch (13mm) in between your chin and the helmet strap. If all is adjusted to these guidelines, you should feel the helmet press against the top of your head. Meaning, you've passed the safety test! Helmets can loosen as time goes on and with each ride, so it's a good practice to try this quick test before each ride to make sure your helmet is fitted right.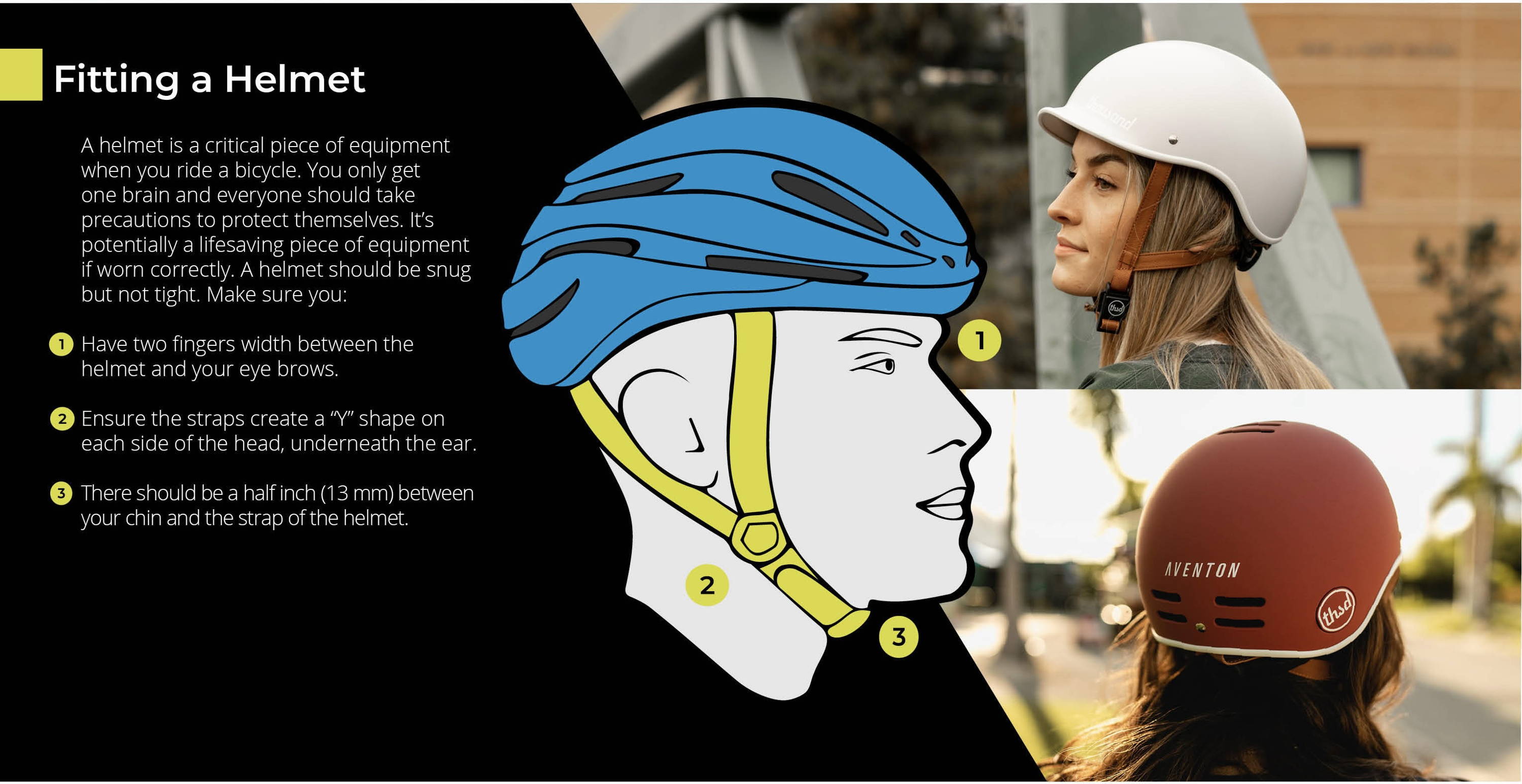 Final Words
There are so many different types of bike helmets. Between 'how to choose a bike helmet?' and 'what size bike helmet do I need?', this simple task can quickly become an overwhelming one. Ultimately, you'll first need to consider what your biking needs are. Then, narrow down your selection by size and fit. Don't assume that because a helmet is more expensive, it is more reliable. Do your due diligence and research, but also have fun browsing and trying on different styles of bike helmets until you find the right one for you! After all, it's a priceless investment.